Giveaways used to give me joy. Well, okay, maybe they still do, but most of the time now? They annoy the hell out of me.
I really like hosting giveaways. Not because they gain me new followers, but because I know how great it feels to win a giveaway (even though I've only won once xD) and receive something in the mail. Making people happy makes me happy. But then bad things start to creep in and make me wonder: Are giveaways really worth it, after all?
Let me just give you an example of something that happened to me during a fairly recent giveaway. The giveaway had just ended, so after choosing the winner, I emailed them. I congratulated them on winning, thanked them for supporting my blog and the book's author in the process, and asked for their shipping address so that I could send them the book.
The person replied. Only, they replied with their shipping address and that was it. No "Thank you!" or any other kind of message. I don't know if I'm being a bitch about it, but the least you could do is say a fucking "thank you," you know? I mean, I'm spending hard-earned pocket money here — and books ain't cheap these days. And this is the kind of shit reply I get? Did you even learn manners, brah?
And that's not all. Giveaways may earn you followers, but what about the people who swim around the internet looking only for giveaways? Once your giveaway ends, they're going to unfollow you, just like that. I hate seeing my Twitter follower count increase until 599… only to decrease to like 540 when the giveaway is over. Like, what was the fucking point? I love giveaways, I really do, and I love anyone who hosts them, even though I don't always enter, but it's experiences like these that make me want to throw a tantrum like a little bitch.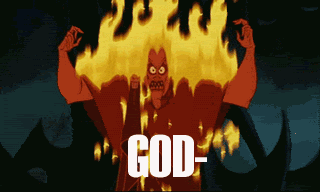 Which is why I've come to the conclusion that giveaways really aren't worth it. I know not everyone out there is rude, and I know not everyone is as insincere as those I'll-follow-you-only-if-you-have-a-giveaway followers, but I don't feel comfortable spending money on giveaways anymore. This probably makes me sound selfish, but this feeling is something I've had for a long, long time. I just never had the confidence to write a post about it. Besides, it's another step in the direction of "stats don't matter!," right?
What about you? How do you feel about giveaways? And am I being overly sensitive here? ><